1031 Mendota Heights Road
St. Paul, MN 55120-1419
United States of America
CATEGORIES & HEADINGSdetails >>
•We have the highest quality control standards for manufacture in the industry. If any of our products or components do not meet our strict expectations, we won't sell them to you. We hold our suppliers to the same exemplary standards.

•Our manufactured products are engineered to provide optimum safety, absolute efficacy, ergonomic design, user friendly operation and economical use.

•Each anesthesia system is constructed using Stainless Steel Fasteners instead of ferrous metal fasteners. This feature prevents unsightly and damaging corrosion of the fittings when harsh disinfectants are used to decontaminate the devices. This ensures years and years of trouble free service.

•Our brackets are made of Aircraft Grade 6061 Aluminum. These brackets are either black anodized or black powder coated to prevent discoloration.

•Each anesthesia system uses Thick Walled Silicone Conductive Tubing. Silicone is much more resistant to oxidation and chemical degradation from the inhalant anesthetics.
Vendor Showcase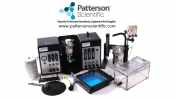 Come see us at Booth# 1440 at the 69th AALAS National Meeting in Baltimore, Maryland on October 28-November 1.

We are the industry leader in the manufacture and sale of premier veterinary inhalant anesthesia systems and accessories. We base the development and manufacture of our products on proven technology and testing procedures. We are committed to educating an read more