Scionics has provided computer solutions for scientists for over 15 years and is the maker of the PyRAT web based colony management software application. PyRAT is used for the storage, sharing, and management of animal facility data and improves facility efficiency, work flow, and governmental compliance. The PyRAT Transgenic edition includes additional functionality tailored to the needs of transgenic facilities, tracking sperm, embryos, and oocytes, their genetic modification, and the life history of the resulting animals.

The web interface is easy to learn and accessible from any device (computer, tablet, smart phone) with a web browser. Data can be stored on-site or in the cloud.

Accessible in several languages, PyRAT is used worldwide by clients with a diverse set of regulatory requirements. Customization of PyRAT is also available.

If you would like a demonstration or would like to learn more about PyRAT and Scionics, please do not hesitate to contact us: products@scionics.com

A list of PyRAT's features include but are not limited to:

* History Tracking
PyRAT records all events in an animal's life, from birth to death.

* Cage Card, Cage Label Printing
Many templates available. New ones can be easily created for you.

* Breeding Management
All breeding events, including pups, are fully tracked.

* Expanded Line/Strain Management
Administrators can add new fields in PyRAT, allowing them to customize their line/strain management (e.g., for phenotype description and reduction of severity level and refinement).

* Printing Genotyping Stickers
Print labels for Eppendorf tubes directly in PyRAT.

* Importing Genotyping Results
Transnetyx's generated XML files can be directly imported into PyRAT. Results from CSV files are supported as well.

* Pedigrees
Pedigree information is graphically shown for easy reference.

* Authorization Tracking
(according to EU Directive 2010/63/EU)
Easily generate EU Statistical Reports in one click.
IACUC / Home Office reports also possible.

* Animal Ordering
Animal orders can be created and sent to a supplier. Once they have been delivered and confirmed, they can be imported into PyRAT.

* Special Services
Special services can be ordered and billed in PyRAT.

* Work Request Management
PyRAT offers a flexible work request system, enabling effective communication between scientists, caretakers, and managers. This system has a full history of all requests and completed tasks.

* Reporting
PyRAT has an extensive report and alert system for all your needs (e.g., weaning and breeding information, animal and cage usage).

* Location Management
A location tree (building, area, room, rack, and rack position) can be defined in PyRAT, allowing cages to be organized in the same way they are in the facility.

* User Management
PyRAT offers different access levels with varying types of configurable rights.

* Budgeting and Invoices
Quickly retrieve budgeting information for animal housing, orders, procedures, or any other kind of service. Individual layouts for generated invoices are available.

* SOP Management
SOPs and related documents can be shared with users.

* Document Upload
Upload all file types and attach them to animals, lines, users, authorizations, etc.

* Configurable Views
Users can select what appears in PyRAT's numerous lists and manage as many predefined views as they wish.

The PyRAT Transgenic edition includes all of the features of PyRAT but also includes:

* A cryopreservation database for sperm and embryos with a detailed representation of tanks
* Complete embryo cell tracking system, from isolation and preservation, to thawing, fertilization, transfer, and transgenic offspring
* Complete sperm cell tracking, allowing the import, isolation, freezing, and revitalizing of sperm
* Colony statistics that enable line and stock management at a glance
* User-configurable views (embryos, animals, transfers) to support your workflows
* Transgenic features seamlessly integrated with PyRAT

Call or e-mail for a free demo today!
Vendor Showcase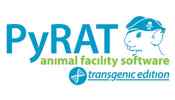 PyRAT is used for the management of animal facility data and improves facility efficiency, work flow, and governmental compliance. The PyRAT Transgenic edition includes additional functionality tailored to the needs of transgenic facilities, tracking sperm and embryos, their genetic modification, and the life history of the resulting animals. Coming soon is PyRAT Aquatic for the management of fish facilities.

Call or email us for access to an obligation free private demo installation. read more