PO Box 322
Darlington, MD 21034
United States
ARCHER FARMS, INC. is a swine and sheep producer, specializing in the supply and delivery of high quality animals directly to research facilities throughout the East Coast. Our customers include hospitals, universities and pharmaceutical companies from Boston to Florida.

We have been serving the research industry since 1985, and our business has grown steadily.

ARCHER FARMS, INC. offers customers the best possible, consistent quality animals. Our operation is designed and managed with the end-user foremost in mind, and therefore, our animals are healthier (and better acclimated to human contact) than animals produced by other popular methods for different end-use.

We have a climate-controlled vehicle that allows us to expand our service area and keep the animals (while in transit) in the same good condition as they are in when they leave the facility.
Vendor Showcase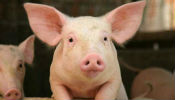 ARCHER FARMS, INC. is a nationally accredited Specific Pathogen-Free swine herd that consists of 140 purebred Yorkshire females. The original breeding stock came from a primary SPF herd in the Midwest. ARCHER FARMS, INC. is a closed-herd that is housed in a shower-in/shower-out facility that is designed for "all-in/all-out" management.

The policy in our operation is that swine that leave our facility NEVER return to the facility. Our trucks are cleaned and disinfected after deliveries. All deliveries are made by ARCHER FARMS, INC. approved drivers in our climate-controlled vehicles. Site visitation is very limited. All visitors must be away from any other swine for at least a week and must shower in and wear our disposable clothes. Biosecurity in our facility is strictly enforced!

This is a partial list of our customers:
- Case Western Reserve University
- Research Institute at Nationwide Children's Hospital
- Emory University
- Ethicon
- Johns Hopkins University
- State University of New York
- National Institute of Health (NIH)
- Rutgers
- Tufts Cummings School of Veterinary Medicine
- University of Florida
- University of Maryland
- Wake Forest University

Archer Farms Inc offers customers the best possible and consistent quality animals. Our operation is designed and managed with the end-user in mind. Therefore our animals are healthier and better acclimated to human contact than commercially-raised animals.

We use climate-controlled vehicles in our operation that allow us to expand our service area and keep the animals (while in transit) in the same good condition as they are when they leave the farm. read more